Roll over image to zoom in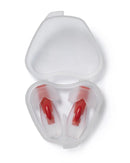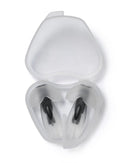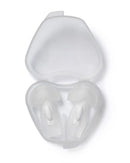 Description
Find peace and quiet with Happy Ears Earplugs
Happy Ears Earplugs Discovery Pack: Find Your Perfect Fit!
Introducing the Happy Ears Earplugs Discovery Pack, meticulously designed for those who are unsure of their size or looking to find the most comfortable fit. Dive into the world of superior sound protection and experience the essence of Swedish craftsmanship.
Discovery Pack Features:
Three Sizes Included: Each pack contains Small (S), Medium (M), and Large (L) earplugs, allowing you to try each size and determine the best fit for you.
Optimal Comfort & Protection: Whether you're listening, sleeping, or traveling, each size is designed to offer the same unparalleled protection from harmful sounds.
Reusable & Sustainable: Made with the environment in mind, all sizes in the Discovery Pack are reusable and crafted from medically approved materials.
Easy Maintenance: Just like our individual sizes, every earplug in this pack can be easily cleaned with lukewarm water.
Use the Discovery Pack to explore and find your perfect match. Once you've found your size, you'll appreciate the effortless comfort and sound protection that Happy Ears Earplugs bring. It's not just about blocking noise; it's about ensuring a serene experience for your ears. Dive in and discover your fit today!
Happy Ears Earplugs: Superior Sound Protection

Experience unparalleled ear protection with the Happy Ears Earplugs – a patented creation from Sweden. Its unique design not only shields your ears from harmful sounds but also ensures optimal comfort for:
Listening to music without disruptions.
Sleeping soundly throughout the night.
Traveling and blocking out unwanted ambient noise.
Key Features:
Discreet & Comfortable: These reusable earplugs are designed for utmost discretion without compromising on comfort.
Protective Case Included: Store them safely when not in use.
Easy Maintenance: Can be cleaned effortlessly with lukewarm water.
Custom Fit: The oval shape of the earplug ensures it snugly fits into the ear canal, offering superior noise insulation.
Pleasant Damping: Crafted with a unique combination of materials, these earplugs ensure sound is muted harmoniously.
High-Quality Materials: Made in Sweden using medically approved materials and dyes. Suitable for those with latex allergies, with its exterior made of TPE material and a central ABS material.
Safety First: Happy Ears Earplugs are tested and certified as per European standard EN 352-2: 2002.
Damping Values:
High: 26db
Mid: 23db
Low: 22db
Overall average attenuation: 25db.
Available Sizes: Small (S), Medium (M), and Large (L). It's worth noting that about 60% of users prefer size M.
Guard your ears from unwanted noise and ensure they remain 'happy' with Happy Ears Earplugs – your ultimate sound protection partner!
Are you tired of being disturbed by loud noises? Whether it's the sound of traffic outside, the noisy neighbours next door, or the snoring partner beside you, Happy Ears Earplugs offer a solution for peaceful sleep and relaxation. The Discovery Pack includes earplugs in Small, Medium, and Large sizes that provide a comfortable and custom fit for all ear types.
Happy Ears Earplugs are made from a soft and flexible material that adjusts to the shape of your ear canal for optimal noise reduction. They also feature a unique acoustic filter that reduces noise levels without compromising clarity, so you can still hear important sounds like alarms or doorbells. With Happy Ears Earplugs in your ears, you can finally enjoy the peace and quiet you've been looking for.
The Discovery Pack is perfect for trying out the different sizes of Happy Ears Earplugs to find the one that fits you best. Use them at home, work, or on the go to reduce noise levels and protect your hearing from damage. They are easy to clean and reusable, making them an economical and eco-friendly choice for noise reduction.
Order your Happy Ears Earplugs Discovery Pack today and experience the ultimate noise reduction solution. Say goodbye to unwanted noise and hello to peaceful sleep and relaxation!
Contact information
Contact Information
We appreciate your interest in contacting us. Whether you have a question, concern, or feedback, we are here to assist you. Below you will find our contact information, including phone number and email address. Feel free to reach out to us anytime.
Phone Number: +358 (0) 50 379 2234 on weekdays from 10 am to 5 pm by whatsapp!
Email: info@jctuotanto.fi
We strive to provide the best possible customer service and look forward to hearing from you. If you prefer, you can also fill out our contact form and we will respond to your inquiry promptly.
Thank you for considering us for your needs. We are here to provide the help you need and look forward to hearing from you soon!